I had so much fun making this fun, fast and beginner friendly quilt that I had to share it with you! I found out after sharing some photos on my instagram that it's actually called the St Louis 16 Patch- and of course there are plenty of tutorials out there but I wanted to make one that was super efficient from a fabric perspective (eg uses up almost an entire fat quarter). Plus, the best thing- no background fabric required! This really is a super speedy quilt- each block took me less than ten minutes and lots of straight line...
---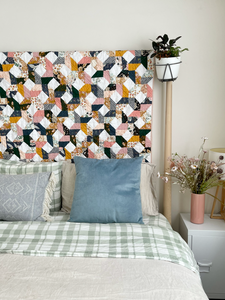 Why my Stanley went so wrong and why you should absolutely make one.
---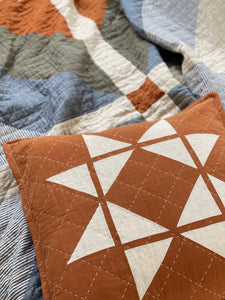 Need a quick gift that's made by you and is modern? Or maybe you have a friend or family member that you want to make something for but they are not quite at quilt giving status?  I've got you covered with this tutorial on how to make a simple and modern Euro size cushion (60cm x 60cm / 24" x 24"). Bonus- i've got kits in all sorts of colours that include all the 100% linen fabric, batting and notions you need - you can find them here. I love the hand quilting effect which makes it extra special but this...
---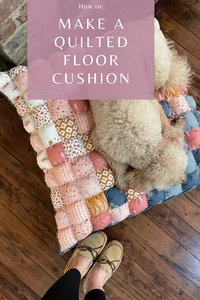 I love quilts with their soft fabric and plush batting. But what makes a quilt even cosier? If it's a floor cushion! This quick and fun project will make you a huge comfortable floor cushion (about (or if you're a crazy dog lady like me, also a perfect dog bed!)  The instructions assume you already have a quilt top (this also works for Lo & Behold Stitchery's Ombre Puff quilt) but if you're looking for a quick pattern like the one pictured below, click here.   The instructions assume a the finished size is approximately 37.5" x 37.5" and is...
---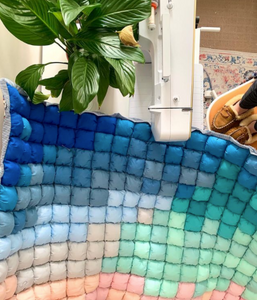 If you're someone who LOVES scraps and leftover fabrics, perhaps skip over this one. But if you're anything like me and scraps just stress you out because you'll likely never use them and your scrap pile continues to get bigger and bigger- then this one's for you! A quick note: This is absolutely not a judgmental post i.e. it's not judging those patterns that didn't make this post!  Fat quarter patterns are my absolute favourite and I will still make a quilt and love making a quilt even if it doesn't use up most of the fat quarter. So please view this as...