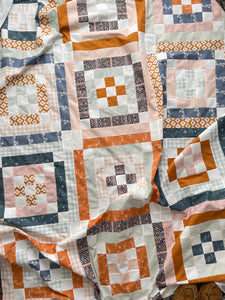 Introduction: How I didn't invent a quilt block :-) When Gabrielle from Gabrielle Neil Designs asked me if I would like to make a quilt using her gorgeous upcoming Heartsong collection, of course I had to say yes. But what pattern could I use? I knew that I wanted to use a new design so I did some scribbling on graph paper and came up with what I thought was a brand new (never seen before) quilt pattern design! Long story short, it turns out my scribbles weren't a brand new never seen before pattern but actually very similar to a traditional Alabama Block. :-)  But I loved...
---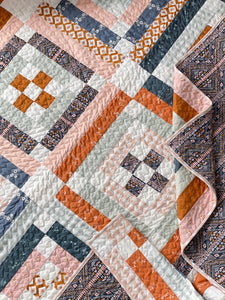 Want to make bias binding but concerned its too hard? That was me two days ago- but now I'm a total convert! There are many ways to make bias binding out there but this was the least confusing method I found (plus bonus-  very little waste) :-)  Step 1: The calculation (I promise it's not that confusing!) Add together the sides of your quilt (in my example, it is a 64" x 64" quilt) 64 + 64 + 64 + 64 = 256 Add 10-20" for corners 256 + 20 = 276 Multiply this amount by the width of your desired...
---
Hi everyone, my name is Jodie and I own a fabric store and I've written an article about how you can purchase and use LESS fabric. Why? Because I want you to be able to use the MOST BEAUTIFUL fabrics for your backing and make spectacular quilts. Hopefully this might make it just a little bit more affordable for you to do so :-)  When I first started quilting, I would use any old fabric for backing not thinking quality mattered. But, the first time I used a gorgeous Cotton + Steel Rifle Paper Co fabric as my backing fabric, I realised...
---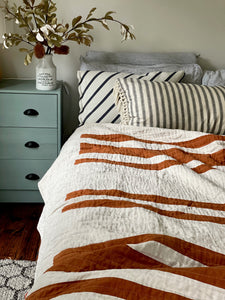 If you are looking for a super quick quilt make OR an interesting yet simple backing, have I got the project for you. This pattern calls for any fabric which has a wider Width of Fabric (WOF) - at least 53" and means you can whip up a decent size throw (78" x 78") in no time! For this project, I used 100% linen which you can purchase here- I also have kits if you would like to make one yourself! I used this as the "backing" for my 100% linen Lottie quilt.  To make this, you need: 1 yard Fabric...
---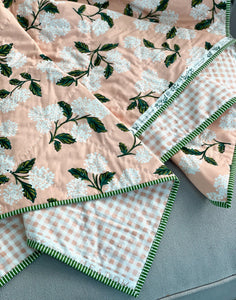 Instructions on how to make a whole cloth quilt- a quick and easy yet super satisfying project !